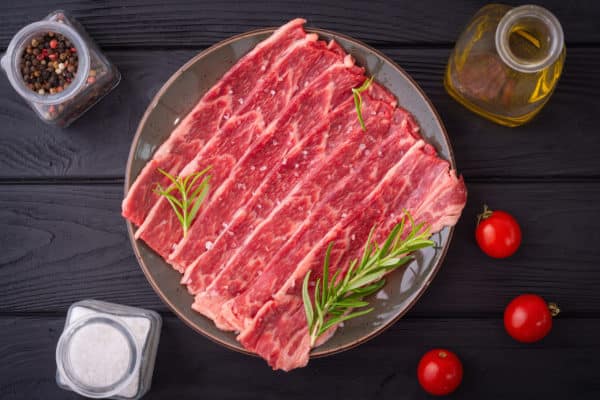 Unseasoned Thick-Cut Beef Bacon
Product Weight: Multiple Sizes Available
Try our all-new Unseasoned Beef Bacon! Beef Bacon is cut from the navel of the cow, which is similar to the belly of the pig that pork bacon comes from. Our beef bacon has a nice mix of fat and meat, that provides the best flavors of bacon with the delicious flavor of our beef. We've noted that it has a similar taste to brisket, and it's delicious with just salt and pepper or you can cure it yourself and smoke it for a perfect anytime meal! Better yet, wrap one of our beef tenderloin steaks with this bacon for the ultimate Filet Mignon!

This bacon is not cured or seasoned; it's just fresh thick-cut strips of pure beefy goodness. Each package includes approximately 1 lb of thick-cut beef bacon strips. Don't miss out on this tasty new treat!
Packaging

All items are vacuum sealed and shipped in cardboard boxes with Green Cell Foam insulation. Green Cell Foam is a compostable, biodegradable alternative to Styrofoam, and a more environmentally-friendly way to ensure safe delivery of your order.
Shipping

All orders will ship frozen from our Ranch in Strasburg, Colorado in a biodegradable Green Cell insulated, recycled cardboard box, with dry ice. Orders will be delivered frozen or very cold to the touch, depending on the time in transit. Orders are shipped on Tuesday and Wednesday of each week.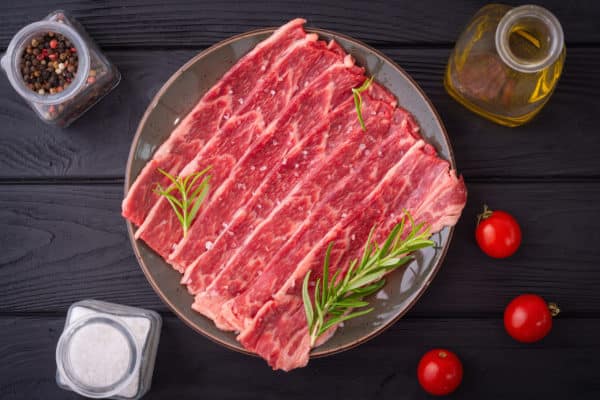 Unseasoned Thick-Cut Beef Bacon
Sale price

$11.89
Regular price
Choose options