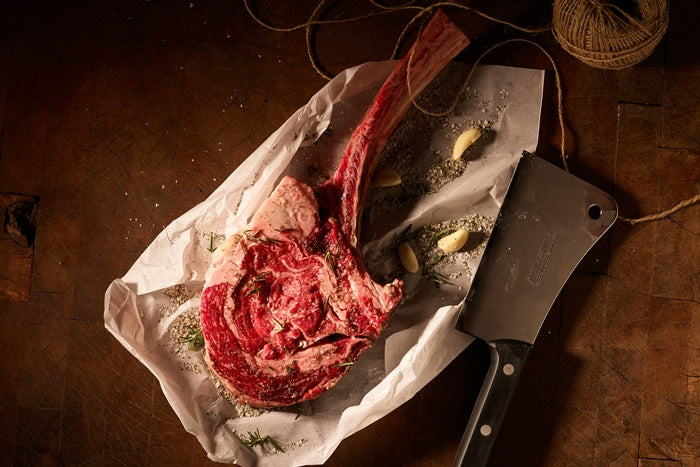 Tomahawk Steak
Product Weight: Multiple Sizes Available
Also known as a Bone-In Rib Eye, the Tomahawk steak is famous for two things:
Deliciousness
Presentation
With the distinctive long bone that adds flavor and gives this steak its name, a Tomahawk steak will awe dinner guests and be the topic of conversation long after the plates have been cleared! The unique look of the steak is matched with its versatility too; this cut can be grilled, smoked, oven roasted, reverse seared, or any other method, and always turn out amazing.
If you're looking for a smaller Prime Rib Roast, a Tomahawk Steak can be prepared the same way and makes for a great date night or meal for two. The bone also allows it to be cooked like a rack of lamb.

Since the bone is left long, these steaks are thicker, about 2 inches, compared to a Rib Eye or Rib Steak, and range from 2 to 3.5 lbs in size. They also feature impressive fat caps that enhance the flavor even more. Don't miss out! Get one today!

 


Packaging

All items are vacuum sealed and shipped in cardboard boxes with Green Cell Foam insulation. Green Cell Foam is a compostable, biodegradable alternative to Styrofoam, and a more environmentally-friendly way to ensure safe delivery of your order.
Shipping

All orders will ship frozen from our Ranch in Strasburg, Colorado in a biodegradable Green Cell insulated, recycled cardboard box, with dry ice. Orders will be delivered frozen or very cold to the touch, depending on the time in transit. Orders are shipped on Tuesday and Wednesday of each week.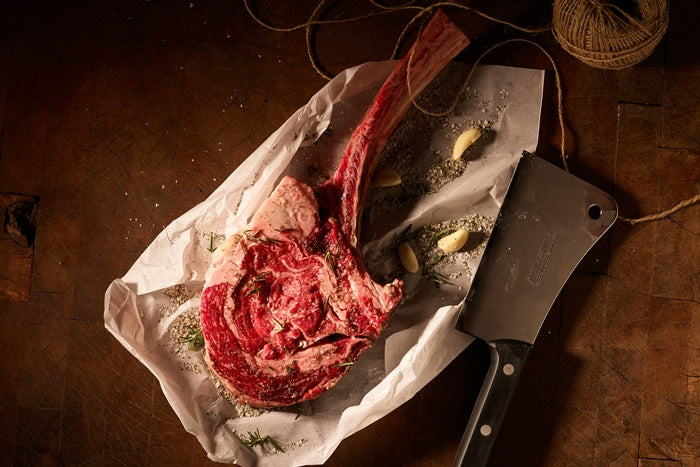 Tomahawk Steak
Sale price

$61.99
Regular price
Choose options