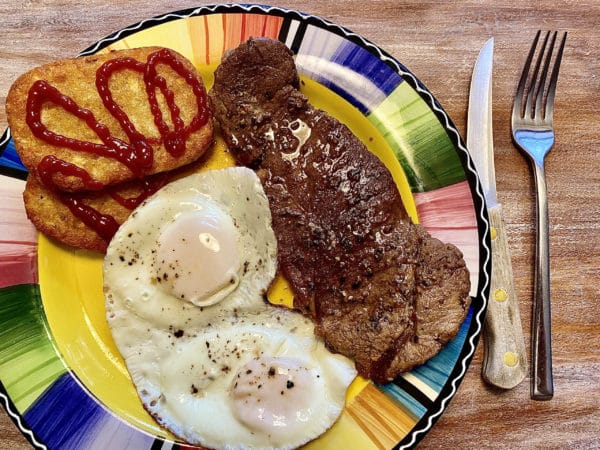 Breakfast New York Strip Steak
Product Weight: .4 - .6 lbs
Cut only 1/2 inch thick, our new Breakfast New York Strip steaks are a great addition to your morning routine! Marinate them overnight, or just throw them in a pan. Serve with toast and eggs over-easy, or cube them and toss them with home fries for a delectable breakfast skillet!

The strip is prized for its sublime texture and buttery flavor. It is moderately tender and has good fat marbling. It is a tasty alternative to the rib eye steak but leaner than the rib steak. The New York Strip is always a very popular cut of steak at the best steakhouses. You won't find better flavor than in a grass fed and grass finished New York Strip Steak from the Flying B.



Packaging

All items are vacuum sealed and shipped in cardboard boxes with Green Cell Foam insulation. Green Cell Foam is a compostable, biodegradable alternative to Styrofoam, and a more environmentally-friendly way to ensure safe delivery of your order.
Shipping

All orders will ship frozen from our Ranch in Strasburg, Colorado in a biodegradable Green Cell insulated, recycled cardboard box, with dry ice. Orders will be delivered frozen or very cold to the touch, depending on the time in transit. Orders are shipped on Tuesday and Wednesday of each week.
Choose options